Revolt


Revolt XL


RIOT
Side x Side

Redline Performance Products
Revolt, Revolt XL and RIOT!
The Beginning Of A New Era...
The Redline Revolt, Revolt XL, and RIOT create a new categories in the off road industry—The sport terrain vehicle (STV). An STV embodies an exciting driving experience in a powerful performance package.
All of Redline machines are all-terrain and come standard with a 72 hp Weber engine (made in Germany), a superior suspension (using Fox or optional Elka shocks) and many standard safety features (tubular space frame, 5-point harness system, wrist restraints, removable steering wheel). Oh, and our vehicles are comfortable thanks to our Corbeau racing-style seats.
The Revolt is a single seat, sport driver's dream come true.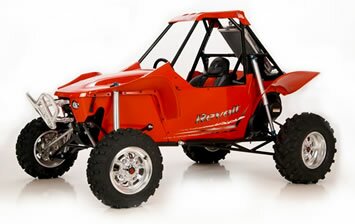 We have found that extreme drivers love this machine. It's light and fast with long travel and a powerful engine, a comfortable Corbeau seat with a 5-point harness system and wrist restraints. All of our machines come with those features - standard. I don't know what you'd have to modify about this one. And women love this machine too. Go figure. The high sides of the frame keep you safe on the inside. And you can keep up or pass up your friends - no problem.
The Revolt XL
We made this machine because one of our owners is a big guy with a bad back and he had a hard time climbing into the Revolt and then his knees hit the dash. (He's 6'3" and lets say, 290, just to be nice.) So we stretched the frame of the Revolt (not really, we made a new frame) by another 7 1/2 inches and lowered the side to make for an easier entry. It works. We have a friend who has tested this machine for us. He's 6'8" tall and he loves this machine. This friend used to own Honda Pilots and Odysseys. He's in love all over again.
The Riot Side x Side
The Riot is the Redline version of a side-by-side. Again, all of the great performance, suspension and safety that come in all of our machines, but you can take a friend and share an extreme experience! That means your wife/husband/significant other/friend can ride with you. If you are not up for that, see the Revolt and Revolt XL above.
Once you drive it, you'll love it!
Check out what these drivers think! These are not paid advertisements.
And thank you to the folks at Cart Wheelin', Dirt Sports, and Sand Sports for these great reviews!